Bird Proofing in Struandale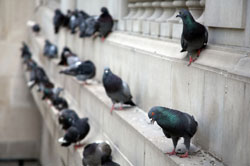 BIRD PROOFING is just one of the many services we can deal with here at Struandale Pest Control. Our Qualified staff are trained and understand local Struandale Bird proofing and exclusion methods.

Weather you have Starlings in your roof or Pigeons roosting on a pillar or in a tree, our staff have an eye to suss out your specific bird control scenario, determine cause. Proof the area of importants and treat the key areas against possible pest insects relating to your bird infestation.

Here in Struandale, all our local staff are unrivalled, friendly qualified and registered staff can only mean guaranteed results at an affordable price.
Here are some of the bird exclusion methods and techniques we specialize in and may implement at your local Struandale home of business.

- Bird Proofing Spikes
- Eagle Eye Bird Control
- Ultra Sonic Bird Repellent
- Great Horned Owl Bird scare
- Bird Traps
- Bird Netting
- Bird Repellent Gel
- Bird Wire

With the knowledge and know how of Struandale Pest Control we can tackle any Bird Proofing or Pest Control related job without any mess or fuss. All our Bird Work in fully guaranteed, and we are guaranteed and HACCP compliant.Here at Struandale Pest Control our workmanship is priority ensuring happy clients.

Call Struandale PEST CONTROL for a free no obligation Bird Control or Pest Control quotation. Our friendly staff are on standby to take your call, give quotes or just general Pest Control advice.